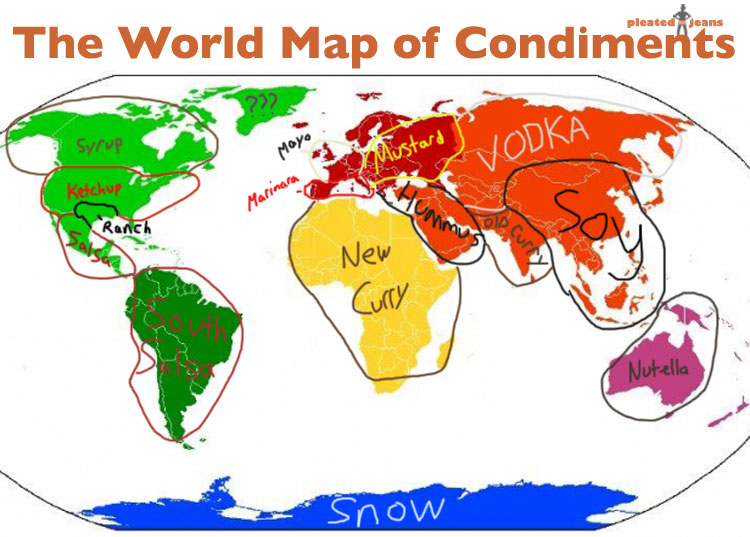 (because my hubby and I are world travelers)
Hey guys, guess what today is? Oh, I don't know, just my 5 year wedding anniversary. It's rad being married to someone as awesome as Aaron and it's also rad being able to use rad and awesome in the same sentence and be totally sincere about it. I am filled with love and though I am not currently wearing my wedding dress, I'd like to share all the love I feel. But about food! Happy Thursday and happy anniversary to Aaron. And also me.
Bourdain to Host Second Travel Channel Show
: I think Anthony Bourdain is the bee's knees, so the fact that he's getting a second show is wonderful news to my eyeballs. This is why it's worth your time - "unlike No Rez, you will actually be able to do the stuff covered on the show." Yup! I would've called it a Hot Minute with Tony, but I'll watch it just the same.
In other Travel Channel/food news, check out
this interview
with my other favorite travel food guy Adam Richman.I cannot tell you how many hours of Man V. Food I've watched (it's even better at the gym). I think transforming his format was really smart and probably a million times better for his health. The dude is a consummate entertainer and just seems like a really nice guy.
Bread People
: Want to see something really creepy, but oddly entertaining? Click on that link. James Earl Scones might be my favorite, but you know I also am disturbed, but in love with Han Soloaf.
Russia Classifies Beers as Alcoholic
: This just in - beer is not food. I guess
Murderface
won't want to move to Russia now.
Cheese Pencils
: This link comes to me via
Brittany
, who is someone who knows cheese. How are these real and how do I not have one right now? Can you imagine shaving this over your fancy arugula salad? I can!
Dinosaur Comics - Everything You Need to Know About Kitchens
: Turns out dinosaurs can teach you about more than just ecology. They also know things about kitchens! I feel kind of silly because I learned about a backsplash from a webcomic, but I think I'll live. On a side note, you should be reading this comic. Don't forget to hover your mouse over the comic for the alt text!
(because we love bacon and bacon turned me into a meat eater...which Aaron loves)
Sugar and Shirts
: So
Threadless
makes really fun shirts and now they have a competition where people make cakes that look like their shirts. As you may have guessed, the cakes are also fun. I think my favorite one is the of the triple scoop ice cream cone. If you want to
enter
this year, you have until the 15th.
Toasty Illusions
: I can totally see the cat face, but I'm usually really good at these things.
Fishin' for Revolution
: I hope this doesn't end up on a t-shirt.
(because we love the farmers market)
I'm also loving: National Ice Cream Sandwich Day (yup, that's a real thing); eating cardamom ice cream between two lemon cookies at
Ruby Jewel
because it's National Ice Cream Sandwich Day; surprisingly delicious vegan corn dogs at
Hungry Tiger Too!
; buckets of
ginger mojitos
(I will have this!); goat cheese on everything all the time, but especially pita chips; the smell of garlic when you've pulled it from the ground; discovering the delicious flavors of
Rogue whiskey
(thanks LeGrand!); excellent after a long (FINAL!) class weekend BBQs with your lovely school friends; having someone offer marriage based on a cupcake;
B's
getting a new food cart and actually getting it on the barge;
Reed's
ginger beer every day; conveyor belt sushi (and Aaron eating conveyor belt sushi); bagels for breakfast lunch and also dinner; anniversary dinners (tonight!); anniversary drinks with friends (tomorrow!); giant freezepops in the park; all food and everything because today is my anniversary and everything is good.
What are you loving this week?